There is *no* reason for you to be cold, too hot, uncomfortable, or unprotected.
Come see Jodie & get dialed in.
RPM Cycles is now featuring the Flex overpant (mens & womens)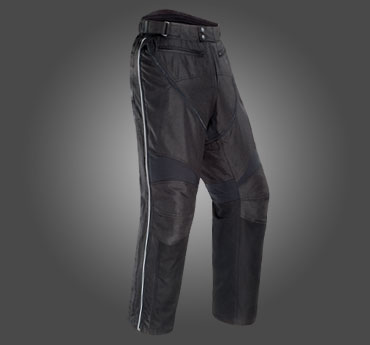 The legs convert easily to mesh, which cannot be beaten in the heat!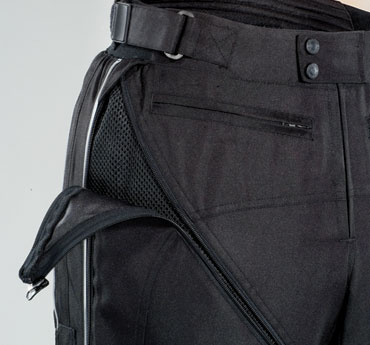 $189.99 (black only)
This overpant literally has you covered for *whatever* the riding conditions are. It truly does it all!
Inside is a removable waterproof membrane & an insulated liner, which can be worn together, or separately.
You can wear your jeans, slacks, or shorts under these. When you get where you're going, just step out of them. More info here.

"This pant fits well & is comfortable! I wore them over my jeans around the shop & at my desk
for about an hour, forgetting at one point they were on." Jodie York
The Tracker air pant (gun metal only)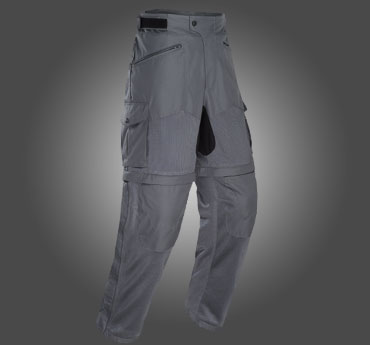 This is a cool looking cargo style riding pant. It's the same strong 600 denier nylon as used in the Flex overpant.
This pant is specifically designed for warm weather. You can even convert them into shorts once you get where you're going: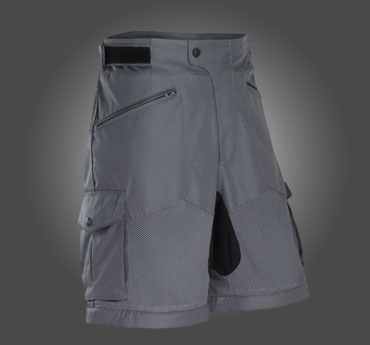 $119.99
"I will be wearing these pants over my Forcefield armored shorts and Forcefield strap-on knee armor on warm days.
These pants look good on, and they are light and airy, but they are designed to be crashed in, unlike jeans!" Jodie York :)
More info here.
Mens Pivot 3 jacket (black)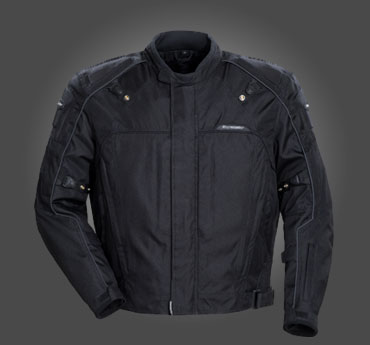 $179.99
It doesn't matter what you ride, this jacket is cool looking, fits real good, & does it all. Built in waterproof
membrane, removable insulated liner, neoprene on the back collar, tons of vents. More info and colors here.
Mens Transition Series 2 (silver)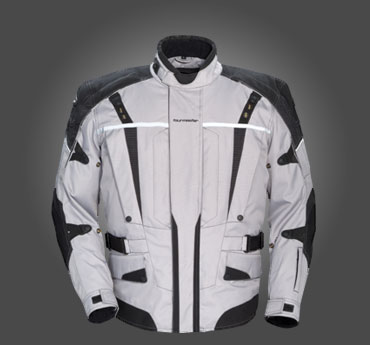 $189.99 (crash testimonial coming)
This is the 3/4 length version of the Pivot 3 Jacket. It also has tons of vents, built in waterproof
membrane, removable insulated liner, & is a really good looking jacket. More info and colors here.
Womens Motive jacket (black with hot pink accents)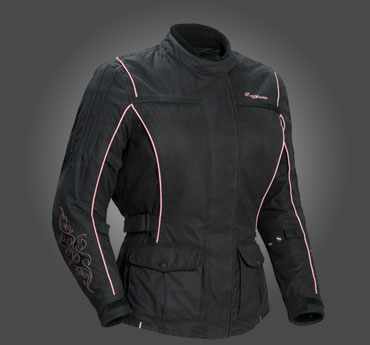 $179.99
This jacket is *very* fashionable with *a lot* of cool details.
You must see it in person, the pictures do not do the hot pink or the details justice.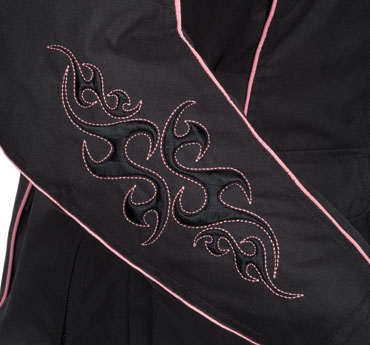 Built in waterproof membrane, removable insulated liner, maximum venting, cargo pocket on the lower back, and 4 hand pockets.
The Motive jacket is luxurious, very flattering, and has a collar lined with a really soft microfiber material. More info here.
Please note: We are no longer going to be stocking or ordering products that are made from animals.
The textile and synthetic materials available today for motorcycling are on par with leather safety-wise,
however, they cost and weigh quite a bit less, and no animal had its life taken for the product to be made.
Attention: We have a few deeply discounted close-out jackets and pants left. Come see if one fits you, they must go!